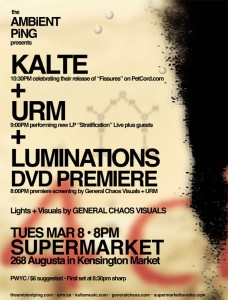 Kalte
(featuring Deane Hughes of Akumu and Rik MacLean of mara's torment) are very pleased to announce that they will be performing live at the Ambient Ping in Toronto on Tuesday March 8th to celebrate the release of their upcoming album "Fissures". Kalte will be performing a set drawn from the mysteries of the Hadopelagic Zone, cold music heard in inhospitable spaces, ominous and dark tones inspired by massive pressures and arctic depths. Their good friend URM and guests will also be performing that night alongside a premiere screening of "Luminations". There may also be cookies.
We hope that you'll be able to join us.
Kalte and URM and Luminations at the Ambient Ping
Supermarket
(268 Augusta, Toronto)
Tuesday, March 8, 2011
PWYC ($6 sugg) – 8pm – first set @ 8:30
Visit the
Facebook event
to keep updated.