It's been a while, hasn't it? Too long some might say...
But rest assured that I am still alive and well, and I am very happy to let you know that Kalte (the musical project featuring
the very talented Deane Hughes
and myself) will be opening for the legendary
Steven Severin
at
Wolf Performance Hall in London, Ontario on Friday November 9th
, and at
Nocturne in Toronto, Ontario on Saturday November 10th
.
Mr. Severin will be performing his new score to the classic film Vampyr, and we hope that you'll be able to join us for these very special events. For more information, please click on the posters below.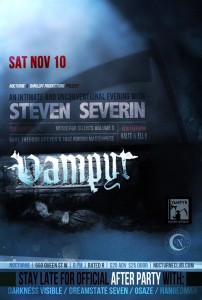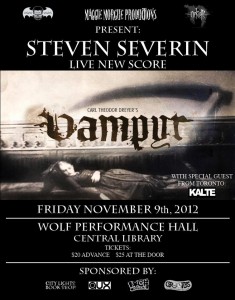 Those of you that know me personally will know that I've been a fan of Mr. Severin for, ummmmm, most of my life, so this is a very exciting opportunity to share a stage with one of my heroes. Thank you very much to Daniloff Productions and Maggie Morgue Promotions for arranging these shows, and thank you to Mr. Severin for being so kind as to let us play with him...